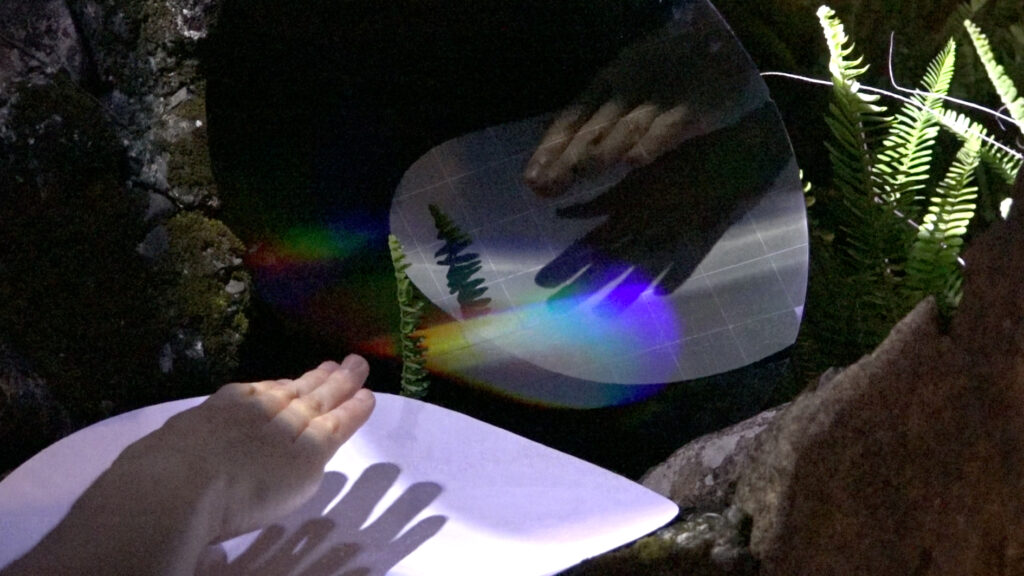 Semi-Conducting Hand-Held Moons
PS 122 Gallery
Exhibition dates:
November 4th – December 17th 2023
Opening reception November 4th, 2023 | 4-6 pm
Artists Talk: December 9, 2023 6 – 8 pm
Press Release
Semi-Conducting Hand-Held Moons
by eteam and lololol
During the lockdown of Taiwan in June 2021 eteam and lololol met several times socially distanced in a Taipei public park at night to discuss the following questions: What role do our technological devices play in our lives? How do smart devices exist in the world? What do we want from them? What do they want from us?
We used to be users. We used to use our wireless phones to communicate with each other. Our smart devices were integral in developing our relationship with ourselves, and the more efficiently and comfortably they supported our "becoming", the more our attachment to them grew. Now it's hard to imagine not to be seen, heard, memorized, enhanced, analyzed, entertained, comforted and taught by them. Our mobile attachment is part of our self-concept. But could they be without us? What does this situation ask from us? We need to pay attention. We need to pause. We need to understand.
Exploring this question in a performative way, we started at the surface and slowly went deeper into a sort of embodiment, which lead us to the "inner life" of our tech devices, namely: semi-conductors.
The brain-lives of most electronic devices are semiconductors, and the most sophisticated ones are currently produced in Taiwan by a company called TSMC. It might be this current monopoly on the production of semiconductors, which ensures the island's bargaining power on a global stage of political power struggles. While mainland China questions Taiwan's political status of independence, Taiwan employs what it may have "picked up" from the development of semiconductors: maintaining the ability to exist in between. Like semiconductors switch between being insulators and conductors and change their conductivity depending on the environment, Taiwan's political status relies on political ambiguity and an ongoing performance of diplomacy.
For the past year eteam has placed tech devices into parks and forests, then waited and observed what happens. Ants, slugs, bugs, caterpillars crawled over them. When snails moved over the surface of their phones, they triggered functions. Letters appeared in notepads, websites opened up, photo galleries started scrolling. Zooming into the surface textures of the semiconductor wafers, the grid-like patterns looked like the facades of the new skyscraper developments at the Hudson yards. Dimensions shifted, scale relativized.
For lololol this lead to the question: What is the cosmic energy that connects humans, our environment and our tech devices? In a time of social distancing there has been a felt shift in dynamics between our bodies, nature and 3C products, resulting in new and evolving definitions for health and safety. We communicate with an unfamiliar intelligence, sensing its weight on our everyday lives. The intelligence that keeps our cities twinkling with bright high rises, if you blur your vision, you might really believe they can replace the starry night sky.
Semi-Conducting Hand-Held Moons is a collaboration between eteam and lololol, between the United States and Taiwan, between humans and non-humans, technologies, ecologies, politics and nature. Exhibited will be an installation of videos and sounds.
Support for this project was in parts provided in form of a 2021 Fulbright Scholarship to Taiwan, a 2023 NYSCA grant by the New York State Council on the Arts with the support of the Office of the Governor and the New York State Legislature. Fiscal Sponsorship for this grant was provided by Wave Farm. Additional support was provided by a PSC-CUNY grant and a City College of New York 2023 Rifkind Center Fellowship.