HAWAPI 2023 – FUERA DE CONTEXTO / OUT OF CONTEXT
Adriana Ramírez, Aileen Gavonel, Alejandro Jaime, Colectivo Agencia de Borde, Deborah Delgado & Eliana Otta, Fernando "Huanchaco" Gutierrez, Gabriel Acevedo Velarde, Gabriela Flores (Fibra Colectivo), Gabriela Léon, Galería Metropolitana, Henry Palacio, Irazema H. Vera, Ishmael Randall Weeks, Jenny Diaz, Jesenia Rodríguez, Jessica Segall, Konantü (Courtney Smith & Iván Navarro), Mark Dorf, Matias Labbé, Maxim Holland, Muriel Holguín, Máximo Corvalán-Pincheira, Ralph Bauer, Raura Oblitas, Sandra Nakamura, Susie Quillinan
SEPTEMBER 9 – OCTOBER 22, 2023
Encuentro – September 9–20
Opening Reception – Wednesday, September 20, 5 – 8 pm
Public Programs developed throughout the
encuentro
are listed below and announced via the PS122 Gallery and Hawapi Instagram networks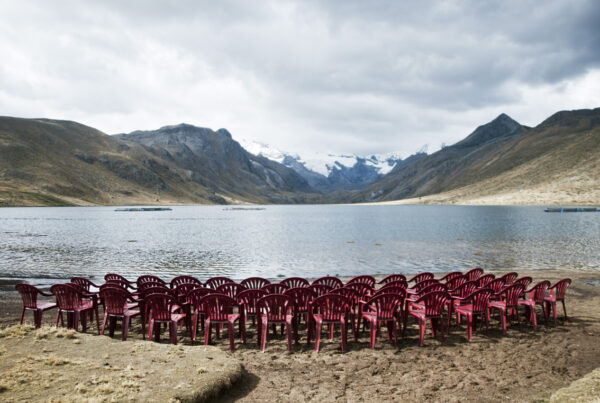 PS122 GALLERY IS PLEASED TO PRESENT HAWAPI 2023 – FUERA DE CONTEXTO / OUT OF CONTEXT, AN ENCUENTRO AND EXHIBITION CELEBRATING 10 YEARS OF THE PERUVIAN ARTS ORGANIZATION HAWAPI. THE ENCUENTRO, FROM SEPTEMBER 9–20, IS OPEN TO THE PUBLIC AND WILL BRING TOGETHER MORE THAN 30 ARTISTS AND RESEARCHERS FROM ACROSS THE AMERICAS, ALL OF WHOM HAVE PARTICIPATED IN PREVIOUS EDITIONS OF HAWAPI. THE OPENING RECEPTION WILL BE ON SEPTEMBER 20 AND THE EXHIBITION WILL CONTINUE TO BE ON VIEW UNTIL OCTOBER 22, 2023.
Hawapi is an independent Peruvian arts organization that holds annual encuentros for artists and other researchers in territories beset by extreme eco-social and political struggles. Since Hawapi's inception over 10 years ago, these sites have included a disappearing tropical glacier in the Andes, an informal gold mining community in the Amazon, and a re-incorporation settlement for FARC ex-combatants in northern Colombia, among others.
To celebrate and critically survey Hawapi's first 10 years of activity, this year's encuentro will take place September 9–20 at PS122 Gallery, and bring together more than 30 artists and researchers from across the Americas, all of whom have participated in previous editions of Hawapi. As the base of operations, PS122 Gallery will be the testing ground for an embodied cartography where the group will develop and produce works, share meals, and stage conversations, readings, performances, screenings, and other interventions throughout the encuentro period. The group will collectively propose, discuss, and develop projects that map a cartography of interconnected relations between sites where Hawapi has operated in the past and New York City, as a center of political, economic, and cultural decision-making in the hemisphere.
"When we received PS122's invitation to do a retrospective we were initially reluctant to accept as we had started to question the idea of the gallery as a relevant site for Hawapi. However, when it occurred to us to gather people instead of works, we started feeling like we could use the opportunity to generate something which not only would serve to contextualize Hawapi's trajectory, but might also lead to meaningful insights and new questions about how art practices can connect distinct territories. We are still not sure we made the right decision, but hope that what emerges from our time in NYC will be worth the considerable effort, expense, and carbon footprint expended. What will be left behind in the gallery is anyone's guess." – Maxim Holland, Hawapi Founder and Co-Director
Drawing from Hawapi's longstanding interests, Hawapi 2023 – Fuera de Contexto / Out of Context orients itself around questions including the ethics of encounter, practices for working in contested territories, possibilities for alternative and solidarity economies in the arts, and the ways that artistic practice and research can address the interdependence of multiple art practices, methodologies and worlds. In keeping with the spirit of every previous encuentro, the PS122 gallery space will be kept open for the duration of the encuentro, inviting members of the local community—both from within and beyond the arts—to join in the conversation and development of the cartography, cultivating further connections between sites, struggles and communities in a gesture of hemispheric accompaniment.
---
PUBLIC PROGRAMS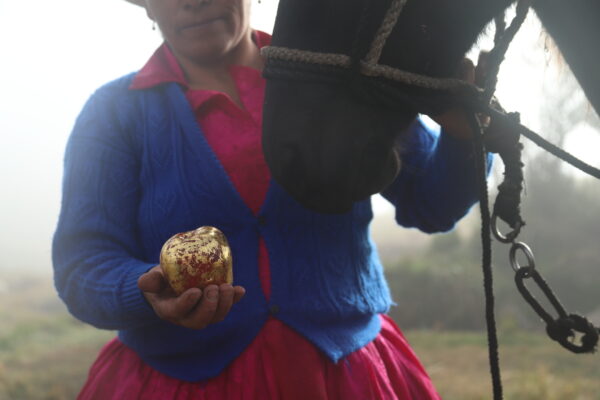 / Sunday, September 17, 2pm
Arteria – action by Máximo Corvolán-Pincheira
Curated by Galería Metropolitana & Raúl Zamudio
Collective action, open to the public
Meeting point: River House – 435 East 52nd Street – 12:50pm
Monday, September 18, 11am-12pm
(re)creación de mundos – Con Deborah Delgado, en base de un texto de Eliana Otta
(Discussion will be in Spanish) Una discusión en torno a prácticas y experiencias que decolonizan la mirada, fertilizan el duelo, y proliferan la vida.
Meeting point: PS122 Gallery – 150 1st AvenueMonday, September 18, Time tbd
Whole Tour – Performance – Guided tour of Whole Foods By Henry PalacioMeeting point: Whole Foods – 95 E Houston Street
/ Tuesday, September 19, 7pm
Moral Epiphany – Performance Lecture by Gabriel Acevedo Velarde
In the presentation, I want to depart from a parallel between the recent presidency of Pedro Castillo in Peru and the first time I did ayuahuasca, in order to articulate two reflections on the current absence of exoticist awareness in the art world and, secondly, on the ambivalent plasticity of the concept of "emancipatory space." I want to suggest that the open contempt for institutional politics ("politics" in its most extended sense) creates a kind of gigantic "no-man's land" that opens up between the individual subjectivity of artists and the negative abstractions subject of critique (capitalism, colonialism). Not only does this help to perpetuate the isolation of the "art world" from the rest of society, but it conveniently coincides with the hippie ideology in the assumption that Good magically radiates from within us out into the world.
Meeting point: PS122 Gallery – 150 1st Avenue
Wednesday, September 20, 5:30pm
El Paso – Performative exercise with Konantü (Ivan Navarro & Courtney Smith)
Meeting point: PS122 Gallery – 150 1st Avenue
Wednesday, September 20, 7:30pm
Mi cumpleañitos Hawapi: Karaoke Out of Context by Aileen Gavonel
Meeting point: PS122 Gallery – 150 1st Avenue
---
Hawapi 2023 – Fuera de Contexto / Out of Context
September 9 – October 22, 2023
PS122 Gallery
150 First Avenue
New York, NY 10009
Free and Open to the Public, Saturday + Sunday, 1–6pm
#hawapi #hawapi2023 #hawapifueradecontexto #hawapioutofcontext #hawapiencuentro #fueradecontexto #outofcontext #contemporaryart #latinamericanart #latinamericancontemporaryart #paintingspace #ps122gallery
HAWAPI is an independent cultural association that develops encuentros for multidisciplinary artists in politically complex territories in order to conduct research and develop interventions in public space. By bringing artists into dialogue with communities, environments and contexts beyond the circuits of contemporary art, HAWAPI seeks to encourage participants to grapple with the complexities of place. After each encuentro, HAWAPI creates opportunities for artists to share their perspectives with different audiences, through exhibitions, events, public conversations and publications.
Hawapi 2023 – Fuera de Contexto / Out of Context is made possible by the New York State Council on the Arts with the support of the Office of the Governor and the New York State Legislature.

Additional funding by PS122 Gallery, Painting Space 122 + HAWAPI