ELIGIBLE/ILLEGIBLE
Jonathan Molina-Garcia, Fidencio Fifield-Perez, Nancy Rivera + Rodrigo Moreira
Curated by Danilo Machado + Francisco Donoso
and
CORO
Constanza Alarcón Tennen + Nicole L'Huillier
Curated by Maya Hayda
MARCH 25 – APRIL 16, 2023
Opening Reception – Saturday, March 25, 2023, 4 – 6 pm
Closing Reception – Sunday, April 16, 2023, 4 – 6 pm
PUBLIC EVENTS
CORO — Opening Performance – Saturday, March 25, 5 pm
ELIGIBLE/ILLEGIBLE — Artist+Curator Talk – Sunday, March 26, 1:30 pm
CORO — Artist talk + Performance – Sunday, April 16, 4 – 6 pm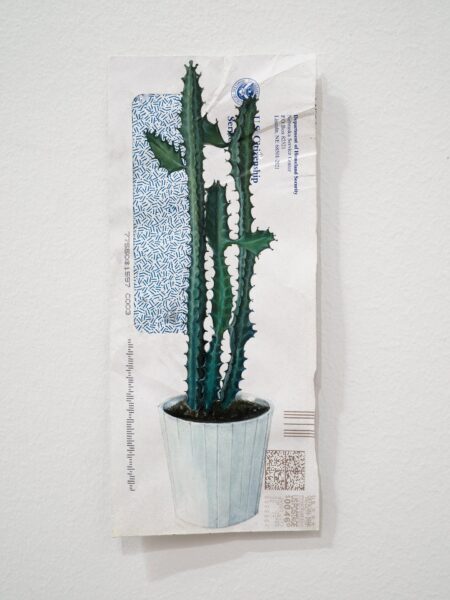 PS122 Gallery is pleased to present Eligible/Illegible and Coro, the last two winning projects of the 2023 Exhibition Open Call, selected by a three-member jury composed of artist Abigail Deville and curators Rachel Gugelberger (Wave Hill) and Sara Reisman (National Academy of Design). The exhibitions will be on view from March 25 – April 16, 2023.
PS122 Gallery's 2023 Exhibition Open Call marks the revival of the program—held annually since the 1986-87 season—that helped to define PS122 Gallery's long history. This organization gave first exhibitions to artists such as Peter Halley, Keith Haring, and Amy Sillman, among many others; and exhibited hundreds more artists throughout the years.
Eligible/Illegible
Jonathan Molina-Garcia, Fidencio Fifield-Perez, Nancy Rivera + Rodrigo Moreira
Curated by Francisco Donoso + danilo machado
Stemming from an ongoing commitment to uplifting other migrant, undocumented, and queer artists, Eligible/Illegible refuses limitations imposed by identity categories and instead presents a focused grouping of artists intervening and re-making state-sponsored documents. The exhibition's title conjures the often arbitrary and violent systems of eligibility imposed on migrant bodies and the tactics of opacity artists use to reject those demands. Jonathan Molina-Garcia, Fidencio Fifield-Perez, Nancy Rivera, and Rodrigo Moreira use painting, weaving, installation, and photography to negotiate personal and familial experiences with migration, leveraging abstraction and illegibility to upend pressures to be visible. The exhibition presents these interwoven bodies of work in a context beyond the "outsider" gaze, as these artists are part of the communities the curators belong to. The magnitude of the traumas inflicted by these systems and of the physical paper trails they require is countered by these artists' choices to create work at an often intimate scale, both physically and emotionally. These artists question the consequences and limitations of legibility and eligibility, demonstrating the power of (chosen) family, meditative processes and rich materiality, and queer intimacies that provide respite in the face of violences.
danilo machado (b. Medellín, Colombia) is a poet, curator, and critic living on occupied land interested in language's potential for revealing tenderness, erasure, and relationships to power. danilo is the curator of the exhibitions Otherwise Obscured: Erasure in Body and Text (Franklin Street Works, 2019), support structures (Virtual/8th Floor Gallery, 2020), We turn (EFA Project Space, 2021), and Eligible/Illegible (co-curated with Francisco Donoso, PS122, 2023) and is Producer of Public Programs at the Brooklyn Museum. A 2020-2021 Poetry Project Emerge-Surface-Be Fellow, their writing has been featured in Hyperallergic, Art in America, Poem-A-Day, Art Papers, ArtCritical, The Recluse, GenderFail, No, Dear, TAYO Literary Magazine, and alongside exhibitions at CUE Art Foundation, Henei Onstad Kunstsenter, Miriam Gallery, Abrons Art Center/Boston Center for the Arts, Second Street Gallery, and Real Art Ways. They are the author of the chaplet wavy in its heat (Ghost City Press Summer Series, 2022) and the collection This is your receipt and is not a ticket for travel (Faint Line Press, 2023). They are working to show up with care for their communities. | Instagram: @queershoulders | Website: https://queershoulders.com/
Francisco Donoso is a transnational artist based between NYC and Miami. Born in Ecuador, but raised in Miami, FL, he's been a recipient of DACA since 2013. He got his BFA from Purchase College and participated in residencies in Miami at Laundromat Art Space, in New York at Wave Hill as a Van Lier Fellow, Stony Brook University, The Bronx Museum Artist in the Marketplace, and the Kates-Ferri Projects Residency among others. Francisco has participated in solo and group exhibitions throughout the US notably at El Museo del Barrio, The Bronx Museum of Arts, Children's Museum of Manhattan, Wave Hill, The University of Virginia, Kates-Ferri Projects, Field Projects, Second Street Gallery, Baik+Khnessyer, Laundromat Art Space, and SPRING/BREAK LA. He is a recipient of an Artist Corp Grant from NYFA and a Cultural Solidarity Fund Grant. His work is in corporate and private collections like the Capital One, the Memorial Sloan Kettering, and the Times Inc Collections. He is represented by Kates-Ferri Projects. Donoso's work has been written about in various exhibition catalogs, Hyperallergic, CRUSHfanzine, The Latinx Project Intervenxions, The Financial Times, The Village Voice, and others. | Instagram: @donosostudio | Website: https://www.franciscodonoso.com/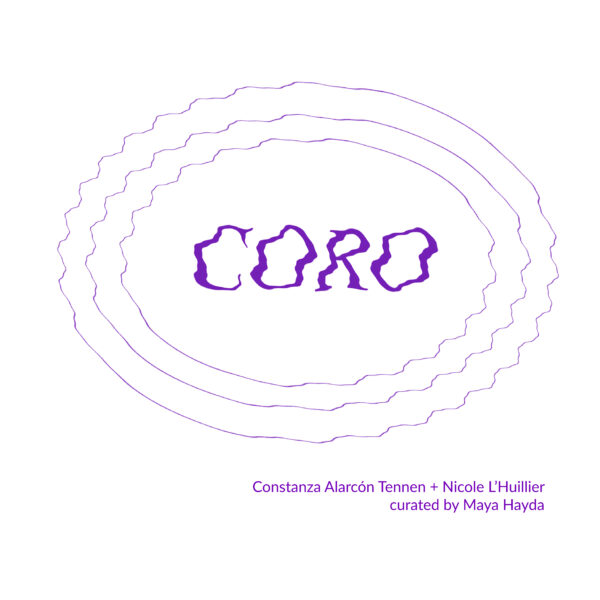 Coro
Constanza Alarcón Tennen + Nicole L'Huillier
Curated by Maya Hayda
Coro proposes an attunement to a chorus of frequencies in the air and beneath our feet, vibrations that sound softly and deeply across matter, bodies, and terrains. Through video, audio, sculpture, and graphic works by artists Constanza Alarcón Tennen and Nicole L'Huillier, the exhibition heightens our attention to poetic resonances that are embodied and beyond the human, and that span underground and cosmic realms. Resonance is activated as a poetic vehicle for imagining and enacting moments of intimacy, collectivity, and non-hegemonic narratives. In Coro, sounds and stories bleed into one another and across scales and entities, creating echoes, encounters, and collaborations between materials, disciplines, bodies, and spaces. The poetic inflections of Coro are further manifested by opening and closing activations led by Alarcón Tennen and L'Huillier, and by a risograph zine which holds a score for viewers to invoke outside of the exhibition space, printed in partnership with Chucho Ocampo (ppppress). The exhibition's deployment of simultaneous utterances creates an environment where a practice of intimate listening, extending across membranes of the animate and inanimate, invites us to come close and to become a part of the chorus.
Maya Hayda (b. 1998) is a curator, writer, and art historian based in New York. She has worked with Artists Space and Canal Projects and written for Public Parking and The Drawing Center. Her research interests are rooted in questions of materiality, analogy, poetics, and the confluences of natural and built environments, examining art as an interdisciplinary framework which exposes, engages, and catalyzes relations between organisms, matter, media, and broader ecologies. She holds a degree in Art History and English from Wesleyan University (2021).
Eligible/Illegible
Jonathan Molina-Garcia, Fidencio Fifield-Perez, Nancy Rivera + Rodrigo Moreira
Curated by Danilo Machado + Francisco Donoso
+
Coro
Constanza Alarcón Tennen + Nicole L'Huillier
Curated by Maya Hayda
March 25 – April 16, 2023
PS122 Gallery
150 First Avenue
New York, NY 10009
Free and Open to the Public, Saturday + Sunday, 1–6pm
Masking strongly recommended
#2023ExhibitionOpenCall #EligibleIllegible #Coro #paintingspace122 #paintingspace #ps122gallery
This program is supported, in part, by public funds from the New York City Department of Cultural Affairs in partnership with the City Council.