SUZANNE KITE
HÉL ČHAŊKÚ KIŊ ȞPÁYE (THERE LIES THE ROAD)
December 3 – December 12, 2021
ALL-DAY OPENING: December 4, 2021, 1–8pm; Performance at 7pm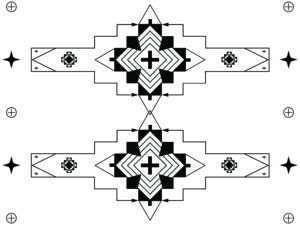 FOR IMMEDIATE RELEASE—PS122 GALLERY IS PLEASED TO CO-PRESENT WITH THE VERA LIST CENTER FOR ART AND POLITICS HÉL ČHAŊKÚ KIŊ ȞPÁYE (THERE LIES THE ROAD), AN EXHIBITION AND PERFORMANCE BY OGLÁLA LAKȞÓTA ARTIST SUZANNE KITE, ON VIEW FROM DECEMBER 3–DECEMBER 12, 2021.
The Vera List Center for Art and Politics presents Hél čhaŋkú kiŋ ȟpáye (There lies the road), an exhibition and performance by Oglála Lakȟóta artist Suzanne Kite as the culmination of the artist's year-long research project Wówasukiye waŋží ahóuŋpȟapi kte (There is a rule that we must observe). Produced at the invitation of the Vera List Center—as part of its 2020–2022 As for Protocols focus theme—, the project considers how artworks using artificial intelligence can be created ethically by developing and applying protocols that are based on Lakȟóta ontologies.
For this site-specific installation, Kite and a team of collaborators have developed a body interface that incorporates movement, performance, carbon fiber and stone sculptures, and graphics into an immersive audio-visual environment. Together the works invite us to reconsider our current and future relationships to nonhumans, especially to technology and artificial intelligence, and strive to establish a sense of relationality between gallery visitors and the computer as a nonhuman entity.
In Lakȟóta ontologies, materials such as metals, rocks, and minerals are capable of both volition and kinship with human beings. From this perspective, Kite creates new spaces for encounters with artificial intelligence, forming innovative methodologies for approaching human and nonhuman relations in a Good Way (an ethical way). This approach calls for a rethinking of the ontological status of each element that composes and creates artificial intelligence, from the earth's resources mined for technology to the artworks that eventually use them. By bringing Indigenous epistemologies to bear on questions of AI, Kite's work as a scholar and an artist develops conceptual frameworks and protocols by which we can conceive of expanded relationships with nonhuman computational technology and AI and make room for them in our collective future.
The exhibition is accompanied by a newly commissioned essay by Riel Bellow on the VLC's online publishing platform and a sound work by Kite, which is also included in the exhibition. Additionally, documentation of a May 2021 conversation between Kite and artistic and research collaborators Scott Benesiinaabandan (Anishinaabe), Clementine Bordeaux (Sičáŋǧu Oglála Lakȟóta), and Jason Edward Lewis (Hawaiian and Samoan) is also available on VLC's web site. Entitled Hél čhaŋkú kiŋ ȟpáye (There lies the road) – A Dialogue About Making Art in a Good Way, it was presented by the VLC as part of this year-long project.
Hél čhaŋkú kiŋ ȟpáye (There lies the road) at PS122 Gallery is presented by the Vera List Center for Art and Politics as part of the Center's As for Protocols focus theme and Kite's one-year research fellowship. The exhibition is curated by Eriola Pira (Curator, Vera List Center for Art and Politics) with the assistance of Camila Palomino (Curatorial Assistant) and Regan de Loggans (Borderlands Curatorial Fellow). Additional assistance has been provided by Devin Ronneberg (interactive installation and machine learning designer), Bobby Joe Smith III (designer), and Bettina Pérez (studio assistant). The artist thanks Belle Rose, Jason Edward Lewis, and Scott Benesiinaabandan. The project is part of the Borderlands Initiative, a joint project of the Vera List Center for Art and Politics at The New School and the Center for Imagination in the Borderlands at Arizona State University, where Kite is also a Matakyev Fellow. For their support, we are grateful to the Sigrid Rausing Trust, the Native Arts and Cultures Foundation, PS122 Gallery and Director Ian Cofre, Mabou Mines, and the board of the Vera List Center for Art and Politics at The New School.
Artist Bio
Suzanne Kite is an Oglála Lakȟóta performance artist, visual artist, and composer raised in Southern California. She holds an MFA from Bard College's Milton Avery Graduate School. She is a PhD candidate at Concordia University, Research Assistant for the Initiative for Indigenous Futures, and a 2019 Trudeau Scholar. Her research is concerned with contemporary Lakȟóta ontologies through research-creation, computational media, and performance practice. Currently, she is a 2019 Pierre Elliott Trudeau Foundation Scholar, a 2020 Tulsa Artist Fellow, and a 2020 Women at Sundance x Adobe Fellow.
Hél čhaŋkú kiŋ ȟpáye (There lies the road)
December 3–December 12, 2021
Free and Open Daily, 12–6pm
Proof of Vaccination and Masking Required for Entry
#SuzanneKite #Hélčhaŋkúkiŋȟpáye #ThereLiesTheRoad #ArtificialIntelligence #AI #Performance #Video #VeraListCenter #VLC #ps122gallery #ps122 #eastvillage #paintingspace
PS122 Gallery is a not-for-profit alternative exhibition space in the East Village operating since 1979. It is dedicated to fostering and developing the arts by providing opportunities and support services for emerging and under-recognized artists. It is an ongoing program of Painting Space 122, the grassroots, artist-run cooperative that helped foster the vibrant cultural community at the City of New York-owned 122 Community Center (122CC). PS122 Gallery strives to present the work of artists of all backgrounds in a diverse and equitable context. By acting as a platform, PS122 Gallery also seeks to reengage with its surrounding community, welcome new communities, and create new, audience-driven opportunities for engagement.
The Vera List Center for Art and Politics is a scholarly research center and a public forum for art, culture, and politics at The New School. A pioneer in the field, the Center is a nonprofit that serves a critical mission: to foster a vibrant and diverse community of artists, scholars, and policymakers who take creative, intellectual, and political risks to bring about positive change.