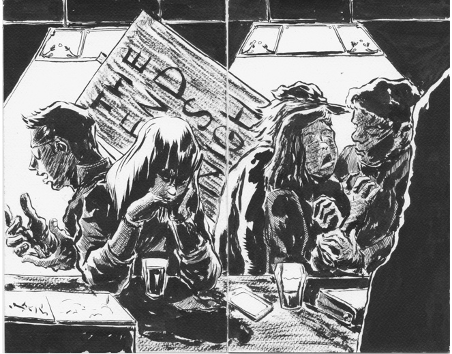 DOWNTOWN TRAIN
Curated by William Corwin
September 9 – October 3, 2021
The exhibition Downtown Train at PS122 Gallery focuses on the particular slice of downtown artistic production that engages with political or theoretical activism. It can portray, help, or transform the community in which the artist lives, or reorganize—along activist terms—the means by which art is viewed and interacts with the viewer. The artist inhabits many positions here: instigator, mediator, recorder, disruptor, interrogator, and/or ally. This show aims to catch the elusive kernel of interactivity between the community, localized social activism, and the surrounding environment within which the works were created.
The artists included in Downtown Train are to be found working in downtowns across the United States, primarily in New York, but in Philadelphia and Chicago as well. They encompass a wide variety of approaches to material culture, from traditional paintings and sculpture, to performance, video, and conceptual work. While many of the artists in this exhibition are independent actors within a wider art scene, several have worked in tandem with other visual artists, writers, performers, and activists in order to effect change.
The freedom of downtown is the freedom to say NO. "No" to a fixed social order; "no" to social prerogatives; "no" to gender and romantic designations. That doesn't mean that the downtown creed is an act of negation: in its purest state, it is the ability to say "yes" to anything without limits. Part of this rejection of rules comes from the simple fact that for many in downtown communities, the rules don't serve the needs of the community, so there's no use buying into them in either social or economic terms. Historically, the artistic and political agendas of the downtown are inalienably intertwined with poverty, and this leads to a very specific kind of cultural production.
The fifteen artists in this exhibition frame the parameters of Downtown art and culture. Some, such as Gordon Matta-Clark, frame communal procurement of basic necessities artistically. Penny Arcade's practice performatively questions contemporary society. Boris Lurie, on the other hand, presents a methodology of rejection, in his case, emerging from the erasure of all meaning that he experienced during the Holocaust. Seth David Tobocman and Jackie Du work on developing community, while Ellen Phelan, ggggrimes, Tommy Mintz, and Avery Z. Nelson visualize and represent the transformation of the community, particularly the subset of the artistic community. Haley Hughes, Mark Thomas Gibson, and Katie Holten generate visual propaganda for downtown agendas, be they political, satirical, or environmental. Blanka Amezkua specifically pursues a singular social objective: the dissemination of information about class-based violence and oppression in Mexico. Lastly, Nyeema Morgan and Alex Bienstock create written and spoken texts, in poetry and prose, which act as critiques and manifestos of the intersecting rejection of norms and aesthetic values that characterize downtown culture.
DOWNTOWN TRAIN is a group exhibition featuring fifteen artists and guest-curated by William Corwin at PS122 Gallery from September 9 – October 3, 2021. Downtown Train is an exhibition that focuses on downtown artistic production that engages with political or theoretical activism, which can portray, help, or transform the community in which the artist lives. The exhibition connects the downtown ethic to ongoing democratizing and liberatory forces and posits that the remaining vitality of this place is in its specificity and its people.
#DowntownTrain #WilliamCorwin #DowntownActivism #ps122gallery #ps122 #eastvillage #paintingspace
William Corwin (born 1976, New York, NY) is a sculptor, curator and writer. Over the years he has worked and/or exhibited with the Theater for the New City, La MaMa La Galleria, Middle Collegiate Church, PS122 Gallery, and Judson Memorial Church, among other downtown institutions. He has written for Frieze, Bomb Magazine, Canvas Magazine, ArtCritical, and currently writes for The Brooklyn Rail, Art Papers and Arcade Project. Recent exhibition projects include curating and writing the catalog for the exhibition Postwar Women in 2019 at The Art Students League of New York, a show of the school's alumnae active between 1945-65; co-curating 9th Street Club, in 2020, an exhibition of Perle Fine, Helen Frankenthaler, Mercedes Matter, Grace Hartigan, Lee Krasner and Elaine de Kooning, at Gazelli Art House in London; and a series of exhibitions featuring the work of painters Marguerite Louppe and Maurice Brianchon at Lafayette College, Albright College (Louppe and Perle Fine) and Seton Hall University. He is the author of the book &Model, a history of a grassroots, artist-run gallery in the north of England published by Leeds Beckett University/Leeds School of the Arts in 2019 and is the editor of the upcoming book Formalism; Collected Essays of Saul Ostrow, to be published in 2021 by Elective Affinity Press. Corwin is currently participating in the exhibition Roots/Anchors at the Newhouse Center for Contemporary Art at Snug Harbor Cultural Center. He is represented by Geary Contemporary in New York. [IG] @william_corwin