Oct 25 – Nov 16
RECEPTION: October 25, 5–7pm
Young Ok presents new drawings done in ink on paper, all revolving around the subtle significance of the actions, behavior and language that constitute everyday life. As such, her work can be seen as a visual narrative that seeks to elucidate the meaning of the mundane.
Korean-born Young Ok Lee received her BFA from Hong Ik College in Korea and is a graduate of The Art Students League and Hunter College, New York.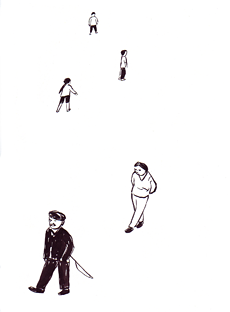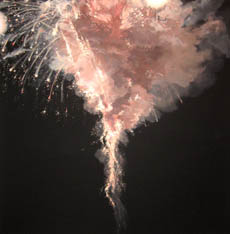 Kate Stewart presents "Duck and Cover" – eponymous with the atomic age's safety message ingrained in schoolchildren as a response to nuclear air-raid drills. Describing herself as a "reluctant optimist" and a "hesitant Romantic", Stewart uses her work to explore notions of escape and shelter, namely by interpreting man-made catastrophes and natural disasters through paintings, work on paper, and installation.
Kate Stewart received her MFA from The University of Pennsylvania in 2003 and a BA from Dickinson College in 1998. Stewart is based in Philadelphia and has exhibited her work locally at Pageant Soloveev Gallery, The Art Institute of Philadelphia, The ICA, and Vox Populi Gallery, where she is an artist member. Her work has been featured in the publication New American Paintings in 2003 and 2008. In 2008, she was a finalist for the PEW grant for artists, and received a Fleisher Challenge exhibition in 2005. Stewart currently teaches art at West Chester University in PA. www.katestewart.xbuild.com
On view in the Hallway Space is work by William Graef titled "There Goes the Neighborhood". Graef is presenting a three-piece installation dealing with gentrification, suburban sprawl, and environmental decay.