Vincent Como's work inspires connections to the occult. Derived from an interest in alchemy, mythology, and heavy metal culture, he incorporates a history of color theory and mathematical relations of art and self. Focusing on the notion of black as all and nothing at once, Como sees his work as a "meditation on the all encompassing knowledge and continuous strive for complete information; the beginning and end told throughout history: the Ka'abah or Black Stone of Mecca, Dark Matter and Black Holes, the Nigredo stage of alchemical transformation. " He works towards "boundlessness" and a "Black Singularity."
Vincent Como graduated from the Cleveland Institute of Art in 1998 and has since has exhibited in galleries from Chicago to New York. His 2007 concurrent solo-exhibitions "In Praise of Darkness" at Chicago's Western Exhibitions and "Black: Theories and Ongoing Research" at VONZWECK, also in Chicago, were documented in a joint catalog with an essay by artist John Neff and an interview with Philip von Zweck, proprietor of VONZWECK. In 2008 Como produced The Blackening, a site-specific installation, for Brooklyn's Secret Project Robot Art Experiment, and more recently Como's work has been exhibited at G Fine Art in Washington, D.C. He also participated in the 2008 Vienna Biennale. In 2009, Como's work has been on display at Momenta Art and the BRIC Rotunda Gallery. www.vincentcomo.com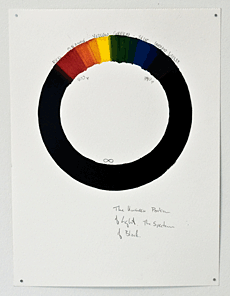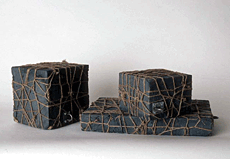 Joseph Gerard Sabatino connects the ordinary and the mundane through sweeping webs of loose gestures and webs in his "Passages" series of word drawings. This ongoing series is strongly influenced by scrawling urban landscapes, where ordered chaos weaves together connections of harmonious histories. The visual congestion of each piece has a suggested hierarchy defined by white welder's pencil, silver welder's pencil, and graphite as well as tally marks, which seem to count off a list, giving order. The word drawings, unrestricted and spontaneous, produce various forms of energy by reshuffling the flow of ordinary ideas.
Joseph Gerard Sabatino was born in Belleville, New Jersey and currently works from his studio in historical downtown Paterson, New Jersey. He received a B.A. Fine Art Studio from Montclair State University in 2000 and studied at The Lorenzo Di Medici Institute of Art in Florence, Italy under internationally recognized artist Cosimo Bargellini. Influenced by the banality of private and public settings, Sabatino's artwork renders his personal relationship to various labor-intensive surroundings of personal history; linking the visual, physical and emotional connections found within his art today. Sabatino has participated in national group shows including Art Basel. The PS122 gallery show will be his New York City debut. www.josephgsabatino.com
On view in the Hallway Space is work by Joanne Ungar and Joyce Yamada.