APR 10 – MAY 4
RECEPTION: April 10, 5–7pm
PS122 Gallery is pleased to present "Things named after numbers," a conceptual installation by Silvina Arismendi and a photographic series, "American Home," by Alice Rodriguez.
The greater part of Silvina Arismendi´s work is concerned with movement and relocation. It is an intuitive search for domestic stimulation and reflects on matters of the banal and the everyday. Her work is situated somewhere between the Hyperlocal and the Global. She methodically collects, catalogs, and maps her observations, such that inventories and archives pervade her body of work, without limit as to the media employed.
Arismendi will present "Things named after numbers," a new body of work created specifically for PS122 Gallery that addresses her most recent, personal transition from Prague, Czech Republic to New York City. Adapting to her new life in Bushwick, Brooklyn, Arismendi draws inspiration from the neighborhood, employing many found objects to familiarize herself with a new sense of place. Tackling the alienation and upheaval that arise from being a permanent foreigner, she creates conceptual works that help navigate this living space. The manipulations are at turns poetic, ironic, and humor-filled, constants that emerge in the work.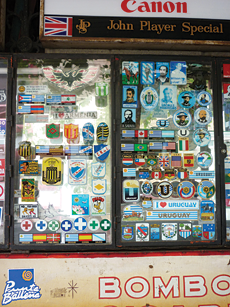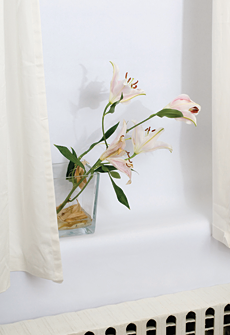 Alice Rodriguez's "American Home" was a project developed and concluded with a delicate white pallet as the background and the defined color on the print; this lets the objects live in the space with romanticism and precision.
Rodriguez uses the ideals of the American suburban home to explore notions of truth in photography, family relations, consumerism and formal composition.  In her studio she creates an atmospheric and refined version of a home setting which she photographs in a clean and minimal style. This reduction of the scene to essential elements allows a new vision and clarity of each of the objects captured. The familiar becomes new and unknown and the seemingly cozy scene takes on new meanings.  Her background as a painter is evident in these beautiful minimal photographs.
Silvina Arismendi was born in 1976 in Montevideo, Uruguay. In 2000, she received a scholarship to study in the Czech Republic, graduating from the Academy of Fine Arts in Prague in 2007. Since 2003, she has exhibited in many European cities, as well as in Latin America. In 2007 she founded galería parásito/, which is a platform for the exhibition and promotion of Latin American contemporary art in Central and Eastern Europe. She currently lives and works in Brooklyn, NY.
Alice Rodriguez was born in Rio de Janeiro, Brazil in 1985.  She received her BFA from Central Saint Martins School of Art and Design in London and MFA in Photography from Pratt Institute in 2009.  She currently lives and works in Brooklyn.
On view in the Hallway Space is work by Brad Silk.