MARCH 22 – APRIL 26, 2019
RECEPTION: Friday, March 22, 6 – 8 pm
PS 122 Gallery is pleased to present Sediment, curated by JoAnne McFarland, the second exhibition to be held in its renovated East Village gallery space. Sediment will be explored as both a human and ecological repository – sometimes toxic, sometimes fertile – that accumulates over time as it significantly impacts our lives, neighborhoods, and public spaces. The P.S. 122 exhibition will be followed by four community-based exhibitions in Gowanus, Brooklyn that will explore sediment in response to the dredging of the Gowanus Canal.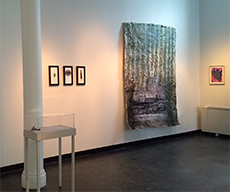 Diane Bertolo — Sasha Chavchavadze — Donna Maria de Creeft
Elisabeth Frost and Dianne Kornberg — Robert Gould
Rachel Eliza Griffiths — Shanti Grumbine — Eva Melas
Claudia Sbrissa — Jane Swavely — Kit Warren
plus artifacts from the Hall of Gowanus
About the Curator: JoAnne McFarland is the former Exhibitions
Director of A.I.R. Gallery and the founder of Artpoetica, a project
space in Gowanus Brooklyn that explores the intersection of
words, visual art, performance, and installation.