SEPT. 11 – OCT. 04
Based on the idea of Yevgeniy Fiks and produced by Yevgeniy Fiks, Kent Hansen, Olga Kopenkina and Alexandra (Sasha) Lerman;
moderated by Janet Koenig, Anton Kozlov, and Gregory Sholette
RECEPTION: October 4, 5–7pm
Reading Lenin with Corporations is a reading seminar for corporate employees which will meet in PS122 Gallery once a week during September. Each session will be lead by cultural practitioners.
Although reading sessions will be closed to the general public, reading sessions will be recorded on video and then screened during regular gallery hours in the gallery.
The exhibition-seminar brings together artists, writers, and corporate employeees to discuss the current state of globalization in the intersection of politics, art, and culture. At the core of the seminar will be Lenin's text Imperialism the Highest Stage of Capitalism. Each session will focus on a chapter from Lenin's book which will be discussed in the context of the modern philosophical and political debates on Imperialism.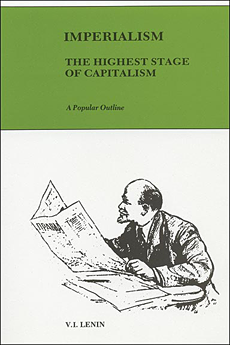 Yevgeniy Fiks is a Moscow-born New York artist. His projects include "Lenin for Your Library?" in which he mailed V.I.Lenin's text "Imperialism: The Highest Stage of Capitalism" to one hundred global corporations as a donation for their corporate library; "Communist Party USA," a series of portraits of current members of Communist Party USA, which he painted from life in the Party's national headquarters in New York City; and "Communist Guide to New York City," a series of photographs of buildings and public places in New York City that are connected to the history of the American Communist movement
Kent Hansen is an artist and organizer from Copenhagen, Denmark. Kent Hansen has functioned as a pioneer in the interplay between art and organizing / organizations. His initiative "democratic innovation" functions by collective production and debates the linkages between art and working live and between arts and business. Initial projects are: "Industry of Vision" – a joint project by visual artists and industrial workers (1999-01), "Art & Business? – debate on art and corporate strategies" – an international seminar at The Danish Contemporary Art Foundation, Danish Arts Council (2001), and "Artists and Corporate Managers Have a Chat' – an Internet-Tv debate (2001).
Olga Kopenkina, a curator and critic born in Belarus, based in New York since 1999. She graduated from the Center for Curatorial Studies at Bard College in 2001. Her exhibitions and projects include Brewster 2003 Collaboration, New York; Post-Diasporas: Voyages and Missions at the First Moscow Biennale, Moscow (2005); Russia: Significant Other, Anna Akhmatova Museum, St Petersburg (2006); Terror Tactics, a film program at apexart, New York (2007), Properly Past at BRIC Rotunda, Brooklyn, 2008. Kopenkina has written for such publications as Moscow Art Magazine, ArtMargins, Rethinking Marxism, Modern Painters, Afterimage.
Alexandra (Sasha) Lerman, born St-Petersburg, Russia, works with video and photography, creates collaborative installations, performances and curatorial projects. Her work is mainly preoccupied with the perception of documentary and the moment when factual documents get involved in storytelling and become fiction. Alexandra Lerman is a graduate of Cooper Union School of Art and the Slade School of Art at the University College of London. Her work has been shown at the Chelsea Museum, Artists Space, Janos Gat Gallery, Rabbit Hole Gallery and Anthology Film Archives in New York.