PS122 Gallery presents "Locks, Combinations and Keys," an intimate glimpse of the inhabitants within a New York City Public School by Meryl Meisler and "Animals in Mind," a three-part photographic series using laser cut photographs and stereograph cards about the connections between humans and animals by Julie A. McConnell.
Meryl Meisler has documented her observations as an art educator in the New York City public school system since 1979. Her humorous, thought-provoking images are installed with magnets and locks that were cut off school lockers when students forgot their combinations or lost keys. Meisler's insider point of view evokes associative narratives of pupils, parents and pedagogues, drawn together by choice, chance and circumstance.
Meryl Meisler received fellowships/grants from NYFA, Artists Space, CETA, China Institute and Japan Society. Her exhibits include the Brooklyn Museum, New Museum, Dia Center, Whitney and installations at Grand Central, NYC subway system, South Street Seaport, and Columbia University. Her work is in the permanent collection of the Brooklyn Historical Society, Library of Congress, Islip Museum, American Jewish Congress, Center for Photography at Woodstock, Metropolitan Transit Authority, Columbia University, and artist book collections of the Whitney, MOMA, Metronome, Carnegie Mellon, Chrysler Museum, and the Pompidou. Meisler's BA is from SUNY College, Buffalo and MA from the University of Wisconsin, Madison. www.imagefrontier.com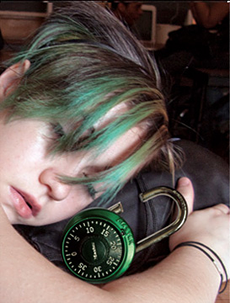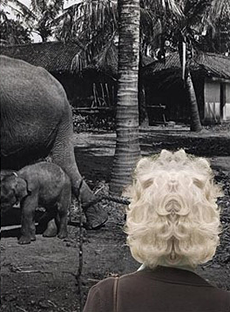 Julie A. McConnell's "Animals in Mind" is a three-part photographic series of linked images about the connections between humans and animals. These photomontage portraits of humans and animals show the human subject in the foreground turned away from the camera revealing a mirror-reflected "face" that avoids easy categorization. The subject, centered in each image, elides between human and animal, leaving the viewer uncertain about how to identify the morphing forms. The surreal emergence of a mysterious embodied presence advocates for a thoughtful mind; one that explores the reasons and ramifications of the dividing line we draw between human and nonhuman species. The symmetry of the shape-shifting hairy form integrated into the back of a human head suggests a provocative, sensual apparition. Playing on the notion of a photograph as an image of the real, these images instead symbolize the contemplation and practice of a respectful connection with other animal beings.
Julie A. McConnell, a fine arts photographer living in New York City, exhibits locally and nationally. Her work was included in the books, A Thousand Hounds and Death in the Studio. Reviews of her work have appeared in The Brooklyn Rail, The New York Times, c magazine and her work has been featured in Photography Quarterly and Artworld Digest. Animals in Mind was McConnell's fifth solo exhibit. Recent group exhibits have been Enantiomorphic Chamber and Sustaining Vision: A Tribute to Arlene Raven. She received a BFA in Photography from New York University and a MFA in Photography from Hunter College. www.julieamcconnell.com
On view in the Hallway Space is work by Joyce Yamada and Joanne Ungar.