MAR 13 – APR 4
RECEPTION: March 13, 5–7pm
Meredith Nickie explores issues of post-colonialism, gender, and race as framed by the historiographies of imperial rule and the enduring legacies of culture and capital. She works primarily in sculpture, installation and photography. She will be presenting "Afro Blue.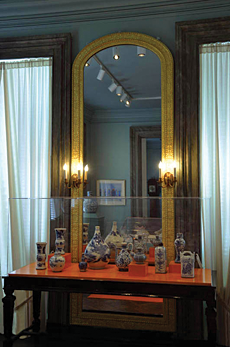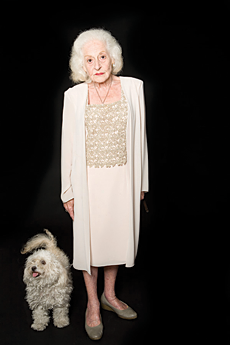 Maki Ueno will be exhibiting five large-scale photographs as well as a video from her "Liilian Project." This series began in 2007 when the artist met "an elegant old British lady, sitting on a bench with her dog." The artist has spent the past three years documenting this spirited woman in her small apartment and her private club, listening to her "worldly" stories. Despite their many differences, they bonded over their shared backgrounds as immigrants in New York City. As Lillian's health has deteriorated over the years, so has her independence and her loneliness is profound. Yet, Maki Ueno has found Lillian's strength of character and dignity inspirational and tries in these photographs to "share the essence of this woman's life with (her) audience."
Meredith Nickie's work has recently been shown at Art in General, New York; Sculpture Center; Long Island City; IDEA Space at Colorado College, Colorado Springs; A Space Gallery, Toronto; with upcoming exhibitions at Rush Arts Gallery, New York; Vox Populi, Philadelphia; ArtSpace, New Haven; and the 2010 Sculpture Biennial at Evergreen Museum, Baltimore. In 2007, she received her MFA from Cornell University and in the same year, was a resident at the Skowhegan School of Painting and Sculpture. Nickie was a DAAD fellow in Berlin from 2007-2008, and a Whitney Museum Independent Study Program fellow from 2008-2009. In 2009, she received a residency grant at the Santa Fe Art Institute, and was also awarded an Emerging Artist Grant from the Ontario Arts Council. Currently, a Jackie McLean Fellow at the University of Hartford, she is a Visiting Artist at the Hartford Art School.
Maki Ueno was born in Kagoshima, Japan. She studied comparative literature in Japan before moving to the United States to study cinema, focusing on cinema theory and filmmaking at University of Hartford. Ms, Ueno moved to New York City to study photography at the International Center of Photography (ICP) in 2007. She received the Director's Fellowship from ICP and was a Student Fine Art Finalist at the New York Photo Festival in 2008. Recently, she received a grant from the Manhattan Community Arts Fund and she has exhibited work at Camera Club of New York and the Fashion Center Juried Art Exhibition.