April– June, 2012
I am at a loss of words to explain my personal actions and their meaning to the viewer and I continue to explore color, form and action in painting. I hope to blur the area between viewing and doing. During my residency period at PS122 Gallery I have been able to review my work and have become intoxicated with color, thus making the decision to paint one tone paintings in 3 colors, white, blue and orange. There is no significant reason why I have chosen these colors, only intuition. My main concern is to create these actions which are determined by the paint, its fluidity, it's moment, and its repetition the primary problem to resolve. In this manner I am investigating the idea of Action Painting and what does an action in painting really mean, what is its significance, if any? For me it does not have much to do with emotion but much more with a search for scale and density.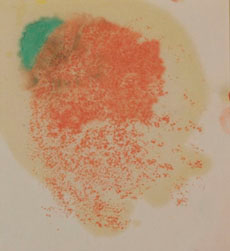 Closer to The Sun will run Thursday, June 21 through Saturday, June 30.
(Barranquilla), South America. She received her BFA in Parsons School of Design (1997). Trained as an Architect and Designer she started painting in 1999 after getting a fellowship to the Vermont Studio Center in Johnson, VT. After that she has exhibited work in various exhibitions both nationally and internationally. She has worked on two curatorial projects in Barranquilla (Gracias por Pensar en Mi, 2010 y Bahia Cupino Nadando Alrededor, 2011) Both included local New York artist as well as artist around the world. She is currently working in a curatorial project for New York City. Her work has been included in recent group exhibitions, Present Company, Mutual Friends, Williamsburg, Brooklyn, Yo Soy el otro, Madrid Spain, Bahia Cupino Swimming Around, Puerto Colombia, Colombia, AKA, Bronx River Academy AECID-Embajada de España in Cartagena, Colombia. Dieppa was the recipient of a Premio de Pintura Alejandro Obregon award in Barranquilla.
Solo exhibitions of her work include "Esto no es Abstracto" in Bogotá, Colombia and "Humedo" at Alianza Colombo Francesca-Gallery in Barranquilla. Closer to The Sun is her first solo exhibition in New York as part of the Residency Program at PS122.