December– March. 2012
In an effort to comprehend the contemporary movements in which we witness and participate as well as the history that has propelled these changes, I explore cultural and nationalistic representations. My projects take the form of graphite drawings, stop-motion animations and paper sculptures. Interested in a reconsideration of accustomed imagery, I divorce my renderings, drawing animations and sculptural works from their original contexts. Rather than working in a linear path, the projects I make are based on constellations of association. Materials and meaning bounce back and forth between projects at staggered modes of tempo. Whether papier-mâché rifle, pencil drawing or cardboard nameplate necklace, I play with images of familiarity in order to question our readings of such representations. Threads of regeneration and futility weave throughout projects that invite viewers to question their navigation and perception of current events and historical legacies. Lisa Iglesias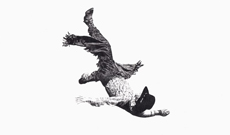 The Friendly Falcons is a collaborative duo that creates multi-layered narratives using sculpture, video, music and performance. Their work explores the tension between the fundamental rhythms of life and the ordered systems that humans design to make sense of these rhythms. Their subject matter expresses an existential desire to relate to our surroundings and to one another.
Through a low tech and handmade aesthetic, they privilege an intimate physicality rather than a detached slickness; this is their way of being inventive without special effects. They tell stories that promote imagination and creativity. In lieu of society's increasingly technologically mediated lives, The Falcons aim to reinvigorate one's experience of the everyday with a sense of human intimacy.
Lisa Iglesias is a native of Queens, NY, received her BA from SUNY Binghamton (2001) and MFA from University of Florida (2006).  Residencies include the Santa Fe Art Institute, the Blue Mountain Center, Bemis Center for Contemporary Arts and the LMCC Paris Residency, among others. Iglesias has exhibited nationally and internationally at a variety of spaces such as the Queens Museum of Art and the Jersey City Museum. A recipient of a 2009 NYFA Fellowship in Drawing and the 2009/2010 Urban Artists Initiative/NYC, Lisa also works collaboratively with her sister, Janelle under the name Las Hermanas Iglesias.
Kurosaki and Pelletier met in graduate school at Cranbrook Academy of Art, Bloomfield Hills, MI, and have been collaborating as The Friendly Falcons since 2006. They have exhibited and performed internationally, including a self-organized European and Scandic tour in 2010. They were recipients of the Toby Devon Lewis Award and were artists-in-residence on Governors Island, NY through the Lower Manhattan Cultural Council. They recently had a solo exhibition at Wave Hill Gardens, Bronx, NY and were named Smack Mellon Hot Picks in 2011. For more information visit: friendlyfalcons.com/