Suzanne Goldenberg, having worked in a variety of media including drawing, collage, textiles and video, has chosen to focus on her more recent work in sculpture for this show. Through an improvisational process, she transforms found and scavenged materials, often what might be considered detritus and of no apparent value, into highly unexpected sculptural compositions that bear traces of the emotional, the architectural and the comic, but are ultimately non-literal. In these sculptures, the materials retain their histories as the waste by-product of our consumer society, but through sensitivity to their other possible lives, Goldenberg also transforms them into rich materials forming precarious structures poised between growth and collapse.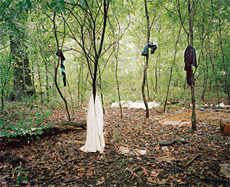 John Stanley's series of photographs, entitled In a Hidden Place, explore tensions that exist between the natural world and urban culture. These photographs depict clearings within city parks, hidden from public areas. Some pictures show traces of a human presence, while others depict a natural environment, with only a hint of usage implied. These scenes evoke a sense of an improvised domestic space, one that questions the nature of what a habitation could be.
Suzanne Goldenberg received a B.A. in Film from McGill University and an M.F.A from the Maryland Institute College of Art. She attended the Aljira Emerge Program in Newark and has attended residencies at the Lower Manhattan Cultural Council's Swing Space program, the Rotunda Gallery/BCAT Residency in Brooklyn and The Foundation for Contemporary Art, Prague. She is a recipient of a Gottlieb Foundation Grant. Her work has been widely exhibited most recently at Priska Juschka Gallery in New York and at the Museum of Contemporary Art in Boston.
John Stanley is a photographer originally from the Hartford, Connecticut area and now based in Brooklyn. He recently received his M.F.A . in Photography from School of Visual Arts, where he was the recipient of the distinguished Paula Rhodes Memorial Award. John Stanley has worked for many years as a photographic educator, and is currently working in both arts education and administration. His photographs have been exhibited across the country, most recently at Bakery Space, in Rhinebeck, New York; School of Visual Arts Gallery and Envoy Gallery, New York.
The Hallway Project, "Cassandra", is by Valentina Medda.