JAN 3 – 25
RECEPTION: January 3, 5–7pm
Dylan Mortimer's work explores the ways private faith functions in the public sphere. In his most recent pieces the focus has been on the connections between faith and contemporary hip hop culture. He explores the freedom of religious expression found in hip hop culture, viewing it as a contemporary form of liberation theology. Mr. Mortimer feels, "The transcendence from poverty to wealth is a symbol of spiritual liberation. In its freedom of expression, does hip hop culture offer liberation to a larger portion of society?" This work explores the verbal language, decadence, and power of hip hop and how it affects faith in the public realm.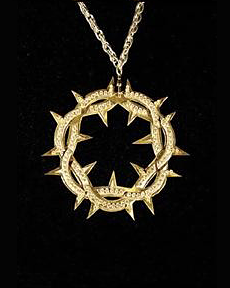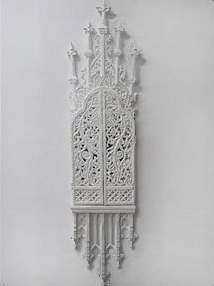 Nathan Bennett's focus in his work is to "reveal new possibilities for dialogue while either displacing or denuding the original intention of the form." Inspired by the teachings of Joseph Kosuth, most specifically the notion of "anthropologized art," Mr. Bennett draws connections between objects and their history, ideology and mysticism. The series of work presented in this exhibition is "Untitled" (Gothic Devotional) a suit of etchings within cast white plastic gothic frames. The frames are based on images found on the internet, with all elements of Christian symbolism removed and replaced with decorative motifs. Using blue insulation foam, the artist carves a replica of the piece from which a mold is made and used to create the plastic form. The etchings inside the frames are based on images of illuminated manuscripts in an exhibition catalogue at the New York Public Library. Again religious references were removed from the prints which were created from plexiglass etchings on handmade paper.
On view in the Hallway Space is work by Andrew Glass.
Dylan Mortimer graduated with a BFA from the Kansas City Art Institute, and an MFA from the School of Visual Arts. His exhibition list includes the Dumbo Arts Center, Longwood Arts Gallery, David Zwirner Gallery, Columbia University, University of Massachusetts Amherst Fine Art Center, and the Kansas City Jewish Museum. He has installed public art in eight states. He is the pastor of a church in Kansas City, Missouri.
Nathan Bennett received a BFA in sculpture and painting from Miami University and a MFA in sculpture from Cornell University. He is a recipient of a CCA Individual Artist Grant, Summer Scholars Fellowship and a National Woodcarvers Association Scholarship. He was recently awarded a DAAD Fellowship to research and produce art. While in Berlin he examined and implemented Joseph Kosuth's term 'anthropologized art' within a German context. He has been widely exhibited in numerous exhibitions such as Dayton Art Institute in Ohio, Lock Haven University in Pennsylvania, Illinois Central College, Earlville Opera House in New York, Lincoln Center in Colorado, Howard County Arts Council in Maryland and Chadron State College in Nebraska.