OCT. 17 – NOV. 8
curated by Anthony Archibald J.
RECEPTION: October 17, 5–7pm
PS122 Gallery is pleased to present Defense Mechanisms, curated by Anthony Archibald J. (archibaldarts.com), an exhibition that conveys the misunderstood, unattainable, and inadvertent situations created by daily misconceptions. This group of artists are self taught and uninhibited by constructs that deter experimentation with media, subject, and meaning.
Craig Norton believes art should be used as a means to bring about awareness and begin dialogue. His work is defined by its social call. For Defense Mechanisms, his work consists of a wall installation which is a physiological study on biological defense mechanisms within deceases and disabilities causing an catatonic stupor and scientific mishaps.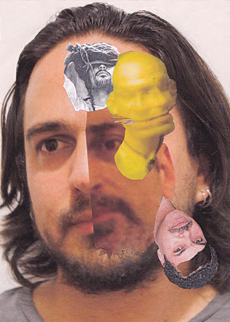 Ryan Bond, also known as rapper Madecipha, defines his style as"Para-horror Hip Hop." Bond's visual art makes use of creative taxidermy of birds, amphibians, and reptiles donated through local petshops and the CBASS (Connecticut Bio-Art Studio Space) Wet Lab of Eco-artists.
iZi defines himself as a Conceptual Humanist who works with haunting sound installations. Masterfully mixed over a period of three years, these landscapes of sounds are crafted into a meditation; his installations are designs of time and sculpt reality. Each design has aunique function, yet shares a single purpose—to guide the listener toward enlightenment.
Pedro Martin DeClet is a Brooklyn born painter of love, hate, joy, fear, pain, happiness, sorrow, and everything in between—of life. For Defense Mechanisms, DeClet will exhibit sculpture based on knowledge, time and reality.
Robert Attanasio is a guerrilla conceptualist who will utilize the Hallway Space to create an installation of text and sound.