May 23 – June 14
RECEPTION: May 23, 5 – 7 pm
Chris Fennell's drawings are constructed from thousands of small-scale pieces which are collaged in repetitive patterns. These drawings reference physics, mathematics, metaphor, the organic architectures of nature, and metaphysical questions about the boundaries between form and spirit. The labor-intensive aspect of their construction also makes them a study of time.
Chris Fennell was born in Burlington, Vermont and has lived in Brooklyn since 1992. He has a B.A. in both English and Studio Art from the University of Vermont, and an M.F.A. in Painting and Drawing from the School of the Art Institute of Chicago. In November of 2009, his work will be featured in his first solo exhibition at Newman-Popiashvili Gallery, in New York City. He currently lives in Greenpoint, Brooklyn with his wife and two children.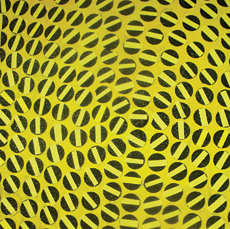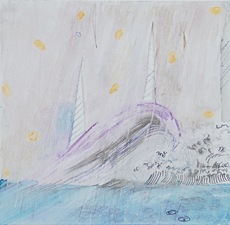 Bryce Speed will be showing work he has created during the past two years. In these pieces he layers carefully crafted line processes which abstract scenes from nature and interior spaces and combines them with "fragmented controlled drawing with spontaneous imagery." The works in the show range from large works on paper to intimate smaller drawings on synthetic material.
Bryce Speed was born in 1978 in Hattiesburg, Mississippi. He received his B.F.A. in painting and drawing from the University of Mississippi and his M.F.A. in painting from the University of Alabama in Tuscaloosa. His work has been included in numerous group shows in a variety of galleries including Space 301 in Mobile, Alabama and at the Kimmel Harding Nelson Center for the Arts in Nebraska City, Nebraska, where he completed a six-week artist in residency.
On view in the Hallway Space is work by Abby Goodman.