February– April
The radius of a clock hand on this motor would have to be 315-ft long, for an onlooker to be able to perceive the motion of this once-per-week rotation. I made a video determining this distance to consider the enormous outdoor area this clock would occupy.
I also built a machine of gears running on a faster motor, to gear down to this liminal rate of perception. This gear system moved at the snail's pace (0.012 m/sec) that would be observable at the edge of our imagined 315-ft-radius outdoor clock.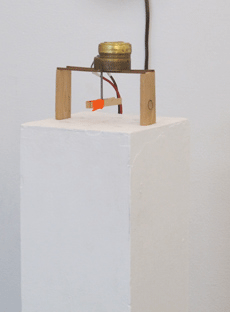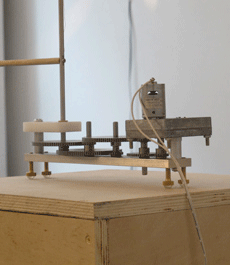 Beka Goedde is a printmaker and sculptor whose work explores the perception of change, duration and the physical body in space. Goedde has held two solo exhibitions with Christina Ray, and has participated in group exhibitions at venues including IPCNY, Cheim & Read, and 80WSE in New York; at Incident Report in Hudson, NY; and online with Triple Canopy. She received a B.A. from Barnard College in Behavioral Neuroscience and Philosophy, and is a recent graduate of the Bard MFA program in Sculpture. In 2011, she was also an artist-in-residence at Millay Colony. Goedde lives and works in Brooklyn, NY.