MAY 8 – 30
RECEPTION: May 8, 5–7pm
PS122 Gallery is pleased to present four stop motion videos by Alex Nathanson and recent works from the "Contortions" series by Kris Scheifele.
Alex Nathanson's stop-motion animation videos investigate the ways in which people navigate cultural artifacts such as architecture, media, or sounds, and their social or political environment. Additionally, he explores the nature of the photographic image and the relationship between still images and moving ones.
The videos are created out of hundreds of single still photographs that Alex Nathanson edits together. One minute of stop-motion animation is composed of as many as 600 still images. A short stop-motion animation, including set design typically takes three to five months to complete. The materials Nathanson uses to create the sets and characters come directly from the environment and are constructed out of found materials, basic arts and crafts, and discarded media such as old newspapers or archival video footage. The audio is also drawn from the environment and includes street noises, radio and television clips.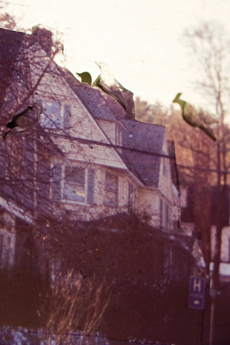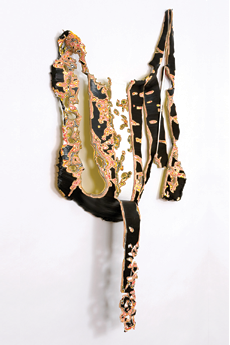 Kris Scheifele will be exhibiting recent pieces from her "Contortions" series. These works inhabit a middle ground somewhere between painting and sculpture. Each Contortion is made entirely of layers of acrylic paint which are applied methodically to a wooden panel support until it reaches a thickness of up to a half-inch. Scheifele pulls the paint up from the support and cuts it with a box cutter and attaches this directly to the wall with nails. Gravity pulls on the paint attenuating connections and continuing to change each piece. Not only is a temporal record created by the buildup of layers, but also by the paint sagging, stretching and bending over time. Through its own elasticity and impermanence, Scheifele feels the "Contortions" series can point to the cycles in life as well as cycles in art. Additionally she views these works as "comic and sexy performers" relating to twisting bodies in dances or circus performances
Alex Nathanson was born in New Jersey in 1988. He received his BA from Bard College at Simon's Rock with concentrations in photography and politics and graduated from the International Center of Photography's General Studies Program in 2009. He is currently working on curating his first DIY exhibition of video art for summer 2010. Presently, he splits his time between Western Massachusetts and Brooklyn, New York.
Kris Scheifele was born in Venezuela and lives in New York City. While working on her BFA and BA at Cornell University, she attended Skowhegan on a full fellowship. Her MFA is in painting from Pratt Institute. She is also a Joan Mitchell Foundation 2009 MFA grant recipient. Her work has been exhibited at New York area galleries including Janet Kurnatowski and LMAK Projects/Brooklyn. For additional information please see www.krisscheifele.com
On view in the Hallway Space is work by Joshua Sanchez.