Feb 13 – MAR 7
Ahn Jun views her photographs as "performance without audience." In her current series, "Self Portrait," Jun revisits places with which she feels a deep nostalgic connection and acts out her adolescent suicidal fantasies by situating herself in precarious, life-threatening situations. By photographing herself in these ultra vulnerable positions she conveys the fragility and insanity of life and ultimately the humanity.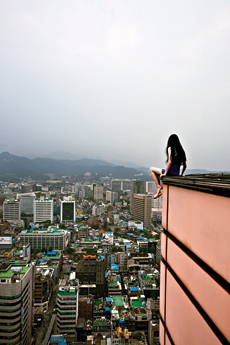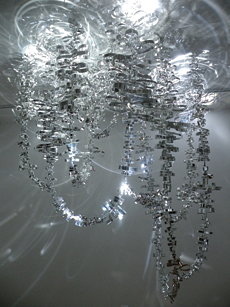 Kazue Taguchi's work explores the ethereal, intangible effects of light and reflection. Inspired by a trip to Europe and the stained glass windows she discovered in the churches she toured as a teenager, her focus is on reflective material and light. "Silver Silence," a recent large scale installation, will be featured in this exhibition. The work is made of mylar spirals which are suspended from the ceiling. The fascinating, ever-changing reflections on the walls from these swinging silver objects creates a relaxing and sublime space.
Kazue Taguchi's work has been featured in numerous group exhibitions both nationally and internationally as well as several solo shows and notable museum collections in Europe. She received her M.F.A. with a concentration on glass in 2007 from Virginia Commonwealth University. She also studied at the Barcelona Glass Foundation in Spain and Joshibi University of Art and Design in Kanagawa, Japan. Her many artist in residence awards include Cite des Arts in Paris, the Lower Manhattan Cultural Council, the Newark Museum and the Corning Museum of Glass. Awards include a Pola Art Foundation Fellowship, a supporting award from the Jutta Cuny-Francz Foundation and being a finalist in both the Bombay Sapphire Prize and the "Young Glass Competition." She currently lives and works in New York City.
Ahn Jun was born and raised in Seoul, Korea. She received her M.F.A. from Pratt Institute and her B.A. from the University of Southern California. Her work has been included in several group shows in New York most recently and Dan Cooney Gallery. She currently lives and works in New York City.